Obituary
Virgil Dwayne Lang was born Sept. 9, 1930 in Appleton, Minnesota and passed away Mar. 23, 2016 in Dallas, Texas at the age of 85. His parents were Edmund Paul Lang and Nuna Margaret Anderson. He is survived by his wife of 61 years, Mary Jane Bowen Lang and his two daughters, Betsy Maddox and Margaret Ott, as well as 6 grandchildren. He lived in Seattle, Washington from 1932 to 1951 when he entered the Air Force. His Air Force career included a year of study at Yale University where he learned spoken Chinese. Then he did a tour of duty in Korea translating Chinese radio signals for military intelligence during the Korean War. When he returned to the US, he spent two years working for the National Security Agency in Washington, D.C, where he met his wife. Virgil and Mary Jane were married in Louisville, Kentucky on Dec. 27, 1951. They moved back to Seattle, Washington where he finished his bachelors degree. During this time, his first daughter, Betsy, was born. They moved to Boulder, Colorado in 1957 where he earned his law degree at the University of Colorado in 1959. In 1959, they returned to Washington, D.C. where he worked as a tax attorney for the Internal Revenue Service. His second daughter, Margaret, was born at this time. He continued his law career as an Associate at Taft, Stettinius and Hollister in Cincinnati, Ohio from 1965-1969. From 1969-1988, he worked as Tax Counsel and later Employee Matters Counsel for Dresser Industries in Dallas, Texas. Following that, he worked as a judge at the Dallas County Criminal Court from 1988-2066. In his retirement, he enjoyed traveling around the world with his wife, taking many exciting cruises to distant lands. He was loved. He will be missed.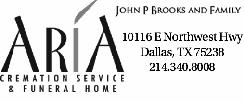 "Excellent customer service, they made you feel like you were their only customer. Very helpful and explained what we should expect during the process. They basically took care of our needs during this time. They contacted DFW National Cemetery for us which made it a smooth experience. Definitely will use them again."
"I was amazed how professional the team at Aria Funeral Preston Dallas Texas are. They guided me through the process and my options of their services that they offered for my mother. They are compassionate, caring, calm, good listener, efficient and did an excellent job! Thank you!"
"If I could give 6 stars I would. Aria made a difficult easier to deal with by basically taking care of everything in an efficient but very empathetic manner. I can speak highly enough of Dusty Martin, who helped us with all of the planning and logistics. He was incredibly understanding and helpful."
"Nothing prepares you for the grief you go through when losing a child. I called this funeral home at 2:00 am broken and could barely talk. The amount of compassion and empathy they showed me immediately let me know I found the right place to cremate my son. I cannot thank them enough for their professionalism, SINCERE concern, and commitment to making sure my son was honored in the most respectful way. I hope this Funeral home values her as much as my family and I do."
"Wayne and Staff, thank you for taking care of the arrangements for our mom, Exter McGee and our dad, Philip McGee. You have been great to work with during such a difficult time."
Elledge Family
"On behalf of my family, I wanted you to know how much we appreciate your handling of my husband's final arrangements. Wayne Baxter assisted & guided us through the entire process with such care & compassion. Don't know what we would have done without him! Sincerely, Colleen Elledge"
The Peterson Family
Yelp! Review - Northwest Highway 5-Stars
"I can't say enough about how helpful and professional Dusty Martin, the funeral director at the Aria Cremation location on NW Highway has been. From my initial call, he was kind and informative. My friend died at home while on hospice and she was picked up in about an hour after receiving the call from the hospice nurse. The person who arrived to pick her up was also very professional/respectful and allowed us to take as much time with her as we wished. When I met with Dusty the next day about arrangements, he explained the process and options available without being pushy or trying to "sell" extras. Throughout the process, he kept me informed and, for example, was careful to be certain I understood the cost of the obituary I wanted and offered some options for reducing that cost if I wished. When I stopped by for another reason and started talking about some of the problems I was having with the pictures and media I hoped to use at a memorial lunch I was planning, he not only listened patiently but offered technology advice and let me use his personal media player. I have had experience arranging cremations for four others using two other local companies, and this experience with Dusty at Aria has been by far the best one I have had."
Paula Barnes
Google Review
"My Daddy's service and our family experience at Aria Northwest Highway was truly blessed. Funeral Director Dustin Martin is the kind of person that you would like to see on a more regular basis – but in his industry – you hope to not see him that often. That being said – THANK YOU DUSTIN for your unending kindness, compassion and friendship through the process. Meeting you and discussing Dallas History, Find A Grave and my Dad's lifelong contributions to the great City of Dallas was simply wonderful! In memory of my dad James A. Dodd, Sr. – I want to personally thank you and let you know that you made everything better in that moment. Your calling to "Be There" is spot on. Aria has a one in a million guy in you! Bling Blinky of TEXAS Shout Out: God Bless You!!"
"5 Miles East of Hillcrest Memorial Park / Lake Highlands"
Funeral Homes Irving Tx: Aria Cremation
Veterans Funeral Services
If death has occurred and or is imminent, please call the Aria location nearest you.

PRESTON ROAD
214.306.6700

NORTHWEST HIGHWAY
214.340.8008

BELTLINE ROAD
972.607.4400

Click here to Download the Cremation Forms.
Have the cremation authorization form notarized
Fax the forms back to us at:

NW Highway
214-340-8009
Preston Rd.
972-526-7410
Belt Line Rd.
972-573-1008